Design, installation and maintenance of security camera systems (CCTV)
Prompt designs, builds and maintains professional surveillance systems of up to hundreds of cameras. Our solutions are not only cost-effective, but also tailored to the individual needs of your company.
Camera systems can be used for various purposes, for example:
for security and property protection purposes,
for surveillance, both indoors and outdoors,
for traffic counting,
for license plate recognition to automate gate opening,
to check and retrieve exits and entries,
cash register supervision, etc.
The camera system of our office building was installed in 2002. In the online live image, the smaller camera images are updated every 5 seconds, and the large camera image in the middle is updated every 2 seconds. From the small camera images, you can choose which one you want to view in the middle, in large size.
Intelligent camera systems, video-analytics
Camera systems can do much more than allow us to keep an eye on a particular area of our screen. Intelligent camera systems can be trained to recognize and distinguish individual objects, living beings, and to signal in a human voice what we want ("announcing" the name of the object or living being).
For example, our camera system, shown in the video below, announces it when it identifies people or cars:
Certain intelligent camera systems—e.g. Myrasis 9—can not only capture motion, but can also be trained to record only when a particular face is detected (e.g., from an employee photo database). It can also be configured to record only when there is movement beyond a certain area, a line.
Smart camera systems can also be used to count traffic.
For example, we trained our traffic counting camera system to identify different types of vehicles (motor, bus, car, bicycle) and pedestrians passing on the main road in front of the office building, the direction of travel of all of them; and it also registers and counts the traffic, grouped by type and direction, and compiles real-time, hourly statistics from it.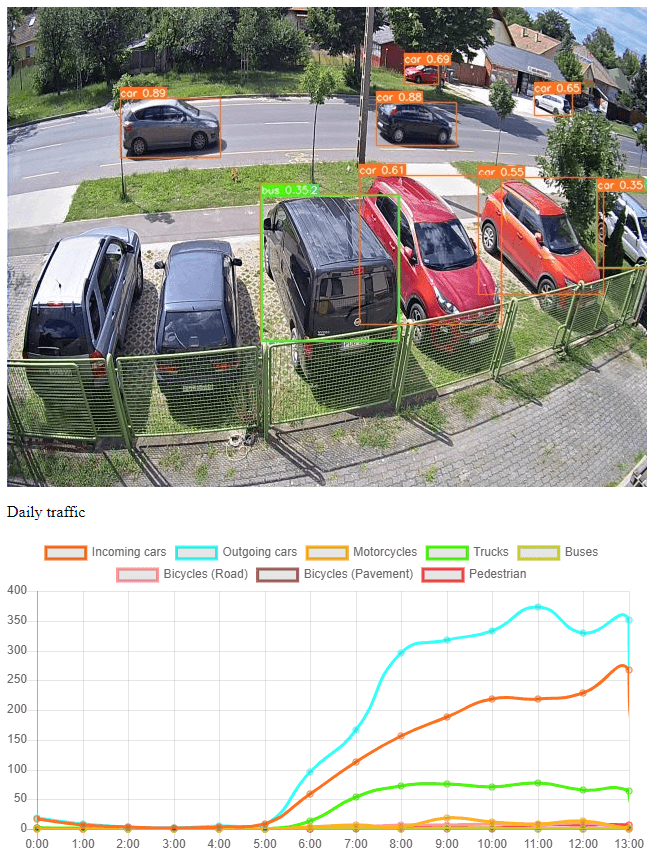 Frequently Asked Questions
What's the difference between IP and analog cameras?
The analog or IP differentiation only determines the signal transmission between the camera and the recorder. The two most important aspects when making a decision are how much money we want to spend on our camera system, and the required recording quality.
Although traditional analog solutions are the cheapest, we do not recommend them due to their extremely low resolution and the quality of the images they transmit. New, more advanced versions of analog are AHD, turbo HD and TVI systems, whose signal transmission is also analog, but they have a much higher resolution, giving a more detailed picture.
Analog cameras are cheaper and there is no delay in the displayed image, but the signal is often disturbed, for example by high voltage cables, radio waves—there is no such problem with fully computer-based IP camera systems.
PC-based IP cameras with digital signal transmission are more expensive than their analog counterparts and transmit images with a delay of one or two seconds, yet they are the most recommended, as they have many advantages:
suitable for wireless (WiFi) connection so they can be used on their own, without cables
we can use memory cards to record pictures
because each camera has its own IP address, we can check camera images from the Internet from any mobile device or computer
numerous, previously very expensive solutions can be done with it for example: you can remotely switch something on and off (e.g. lighting, opening doors), devices which give outer alarm signals can be integrated into the system
we can fully parametrize them via the network
the whole IP camera system can be managed from one place.
What are the components of an IP camera system?
 IP camera,

computer or server on which the recording software runs (for this we connect cameras based on their unique IP address);

switches (network devices, which provide the network traffic between the cameras, recorders and displays; in most cases cameras get the power supply from the switches),

router (which connects the internal IP video network with the Internet),

screen (display device).
Is a wired or a wireless camera system better?
It is possible to implement a wireless design for all camera systems, but we prefer cabling, because this way the system will work faster and more stably and reliably.
Should I choose a DVR or a PC-based (server-based) surveillance system?
Target capture systems are recommended for a small number of cameras (smaller offices and private homes). You can connect a monitor to them—if you need a monitor at all: most people check them from their phone.
We recommend PC or server-based systems for a larger number of cameras (for industrial areas, office buildings). These are much more customizable in their operation—for example, they are capable of the following:
multi-level user management,

sharing of authority for users,

creation of different camera views for each user, 

use of map module (where you can upload a map in JPG or other image format, place the cameras on it, on the icon on which you can click to open the camera image immediately), 

for multi-monitor view.
Can the camera system be connected to the alarm system?
Some IP cameras have an I/O port on which a motion sensor can be mounted, so if the alarm goes off, it can send a camera image too.
It is also possible that if the camera sees movement, a notification is sent to your mobile phone, but this can generate many false alarms (for example, if just a shadow moves on the camera image). However, with smart camera systems, this can be eliminated. Intelligent camera systems, e.g. in Myrasis 9, can be trained to send an alert only when a person is detected.
What's the difference between indoor and outdoor cameras?
The differentiation of indoor and outdoor cameras is fading away. The only difference between the two is the design: while outdoor cameras are vandal-proof, indoor cameras are not, their cover is made out of plastic, and they aren't UV-resistant. 
We usually use outdoor cameras everywhere, because they are just as decorative and technically just as suitable, but more durable, more rugged.
Are Wi-Fi cameras better?
We recommend the WiFi solution only if you need surveillance at a place where the conditions do not allow building a more stable and reliable wired solution (eg., lack of infrastructure).
Do you need a separate night-vision camera?
Almost all cameras can provide a useful image during the night thanks to infrared lighting.
Classic infrared-LED cameras that illuminate the area in a patch can now be said to be obsolete. MOre modern ExIR LED cameras illuminate the entire viewing angle with a fraction of the LED number (while thr old cameras had 36 LEDs, the current ones have 2).
Classic infrared-LED cameras are slightly cheaper, but we recommend ExIR LED cameras, especially if receiving the best possible night camera image is important.
What are the best rotatable cameras?
Speed-dome cameras can be rotated and controlled remotely. They rotate completely horizontally, and can move in a 90 degree angle vertically. (PTZ – pan/tilt/zoom). Their optics have a zoom range of up to thirty times and are capable of very fast movements. They also can be programmed to scan a specified route automatically, or to turn the camera when an alarm is received from the monitored area.
They can be controlled with a keypad with a joystick, or with a mouse via a recorder or server.
Because they are rotatable, the speed dome can trigger multiple fix cameras.
How do hidden cameras work?
If a hidden camera is required, in most cases an IP camera—usually with pinhole optics—is suitable for the purpose, in which an SD card can be inserted. This way you do not need a separate recorder but you can even connect to a computer network so it can be monitored via Internet.
Should you use solar cell cameras?
Solar cell cameras are completely independent cameras, which are recommended for places without proper infrastructure, for example, for construction sites or illegal landfills. Their camera image can be checked via mobile Internet connection. They run on batteries at night.