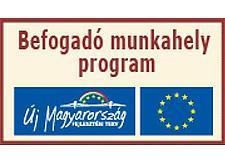 Inclusive Workplace Program
We participated in a training and employment program of disadvantaged workers as employers. Within the framework of the Inclusive Workplace program, the participants of the project were prepared for the positions of graphic assistant, programming assistant and web editing, who later became employees of Prompt. The project was hosted by the Social Diversity Program of GAK Non-profit Public Benefit Ltd.
The Inclusive Workplace Programme is an important tool for social integration and equal opportunities, offering a long-term, sustainable solution for the integration of disadvantaged social groups into the labor market. After the preparation, the program will continue in the first phase of employment to help new employees retain their jobs.
The model for the development of the Inclusive Workplace Program was the methodology of the project "Inclusive Budapest—development and promotion of inclusive workplace practices in organizations owned by the Budapest Municipality" (project ID: EQUAL-2.2.1.-2005-10-0002 / 1.0), accomplished by Budapest Esély Nonprofit Kft. (former Capital Public Benefit Employment Service) and its partners, within the frames of the Equal Programme.
The project is supported by the European Union and it is co-financed by the European Social Fund.