Solo 823 universal smoke and heat detector test kit rental
During installation and maintenance, fire alarm systems must be tested to comply with current regulations. To do this, we offer for rent the Solo 823 smoke and heat detector test kit, which is cost-effective, approved by all detector manufacturers and meets international standards.
Daily rental fee for the Solo test set: HUF 15,000 + VAT.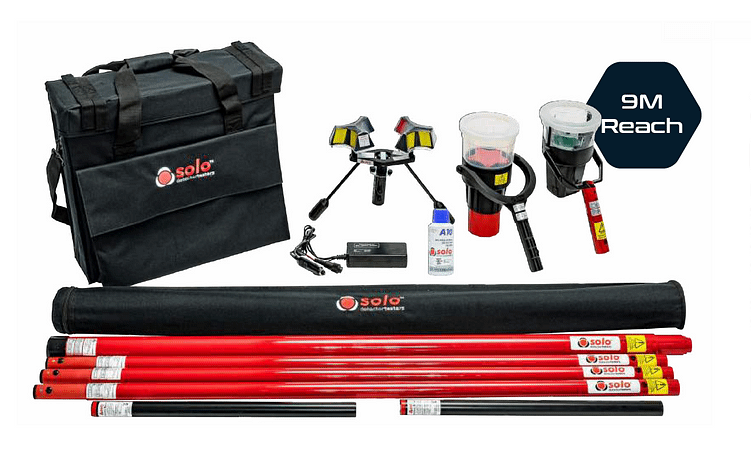 Parts of the set
Solo 330 aerosol dispenser
The dosing tank of the Solo 330 is large enough to test most of the sensors perfectly, yet its shape does not hinder the work.
Suitable for testing smoke, heat and carbon monoxide detectors

For testing detectors up to 100 mm in diameter

Complies with UL standard

Can be used with all leading sensor brands

Dispenser and patented membrane contain particles that retain test gas and test smoke, respectively

Durable, also suitable for daily use

Efficient and economical aerosol release due to its spring mechanism

The tank is transparent so that the detector LED is visible during testing

It can also be used to test high or angled sensors
Solo 461 wireless hot air sensor tester
Using the unique Cross Air technology, the tester heats the air and blows it through the tank so that the hot air travels safely towards the sensor and not towards the plastic parts or cover.
Recommended by sensor manufacturers

There is no risk of tripping over it as it is a wireless device

Quick activation

Lightweight and easy to use

Universal - can be used with most detectors

Designed for testing high and angled detectors

Battery operated (kit includes two rechargeable batteries and a battery quick charger)

Can be used with fixed or rising temperature and combined detectors up to 194 °F / 90 °C
Solo 100 telescopic rod
4.5 m long bar consisting of 4 sections

Fiberglass, lightweight design

Certified non-conductive to protect both user and live equipment from accidental short circuit
3 Solo 101 extension rods
Bars 1.13 meters long each

Fiberglass, lightweight design

Together with the Solo 100 telescopic rod, detectors mounted up to a height of 9 meters are easily accessible
Solo 200 detector removal or installation device
With color-coded, rotatable heads, it allows us to adjust in a variety of ways and attaches stably to a wide variety of detectors.
Universal design—can be used with most detector brands

For sensors with a diameter of 65 to 110 mm

Can be used in angular places, on suspended ceilings

Lightweight design
Solo 610 carrying case
Carrying case for convenient transport of head units, battery holders, battery chargers and aerosol containers.
Aerosols
You can order aerosols from us for the Solo test kit.
Solo A10 - for smoke detection testing, 150 ml
Transparent synthetic aerosol

Complies with UL and ULC standards

Recommended by sensor manufacturers

Non-flammable (Solo A3 and A5 are flammable)

Oil-free formula

Does not leave deposits in the sensor

Non-toxic (Solo A3 contained toxic gas)
Price: 8665 HUF
Solo C3 – for testing carbon monoxide sensors
Recommended by sensor manufacturers

A real, non-flammable CO stimulus
Price: 9399 HUF
Solo A7 – detector cleaning aerosol
Dirty or contaminated detectors can cause false alarms. With the Solo A7 cleaning aerosol, dirt can be effectively removed from the sensors.
Non-flammable

Does not wear the equipment
Price: 8470 HUF